Reconditioning
DSC has made the choice to offer this slewing-ring reconditioning service since a twenty years. Thanks to its know-how, its experience and its partnership with VANMANEN Slewing-rings, whose workshop is based in Holland, DSC, based on Arles, offers a tailor-made quote without the need for prior expertise of your slewing ring. It is an intervention that is recognized by customers who trust us as a reliable solution and offers excellent value for money.
A simple goal: combine savings with quality
For this service, we offer very competitive rates for all our interventions. For renovations of construction machinery or for any other services in this field of private sector, don't hesitate to contact us.
Reduce the immobility of machinery:
is a main factor to assist you on your productions.
We make sure to intervene in a very short time to allow you to minimize the downtime of your equipment. So you can count on our expertise in the following areas :
Control of games;
Rectification of raceways, spacers and seals;
Repair broken teeth.
Our training slewing-rings reconditioning service is at your service in Arles throughout the year on simple phone call or e-mail.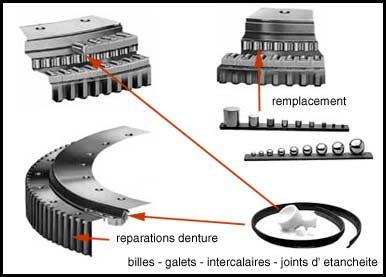 Our policy: Repair the parts entrusted to us with the greatest care and with the best technologies.